I've never been a fan of 3-day itineraries or those "must-do" in 3 days person. Having been there for almost a year, these are what I would recommend, but do plan your schedule accordingly! 🙂
Translator App
Google does not work in China. Therefore the Google Translate app does not work as well.
If you are not a speaker/learner of Mandarin, you will be bound to encounter difficulties in China. Though some of the staff can manage basic english, you might ask questions that they can't handle/understand. For that, you will need a good translator app.
Get Baidu Translate 百度翻译 here:
iOS || Android

Get Microsoft Translator here:
iOS || Android


For more Shanghai recommendations, click on the posts below!
Must Eat
There are so many things that one must try in Shanghai. If you really are short of time, do make sure you give these few places a go!
Dimsum with a view!
This restaurant has One Michelin Star.
Dine at Jin Xuan Chinese Restaurant at the Ritz-Carlton Pudong on the weekends. You will be rewarded with a great view of the bund, sans the crowd and gazillion people taking selfies or walking around those posing for pictures.
Prices at Jin Xuan are not super pricey (even though it has stellar views and owns a star), considering how costly dimsum actually is (read Korea, Singapore, European countries, etc.)
Dimsum/Yumcha time is from 12pm-2pm, but they will let you hang around a little after 2pm if you are in for a chitchat sesh with nice and quiet ambience, a rarity in Shanghai.
We will usually make a reservation in advance (the husband knows the manager) though there is usually ample seats. If you are worried you won't get a table, you can reserve online too just in case!
Bubble Tea/Boba!
Two of my favorite places,
1.Yi Dian Dian 一点点
This is a bubble tea chain! I love their regular boba milk tea! The standard is pretty much consistent wherever you go. The pearls are pretty chewy, which means it's pretty fresh and not too hard and starchy in the middle (it will if it has been sitting there for too long).
You get to choose your sugar level as well! I will always go for 30% sugar, chilled but without ice and I'll request for lesser boba (I don't quite like it that I have boba left at the bottom when all the tea is already gone. Ice takes up space. I want more milk tea, so chilled but without ice). But that's just my preference..
2. Chatball 茶丸
I love the pearls from Chatball. It is made daily, not those pre-made tapioca balls that's been kept for ages. Which also means the boba are not hard in the middle from sitting there too long.
I wouldn't call it a chain as it's found only at 2-3 places in Shanghai. I've only tried the ones at People's Square (ren ming guang chang/ 人民广场) and Tianzifang (tian zi fang / 田子坊).



Hot Pot!
The hotpot culture in China is strong. But here are a few of our favorites!
1.Bao Gong 煲宫
This is a hot pot chain serving white silky chicken and pig's stomach broth as the base! You get the silky peppery white chicken and pig's stomach broth, they even top up with more of the same broth, not just plain water, when it's running low. The soup warms you up instantly on a chilly day. (If you are worried about having too much pepper in the soup, you can opt for them to leave it out of the pot, and you can add it in yourself!)
Still as good in summer, leaving you to exclaim "shiok ah" (a Singlish word, expressing happiness after doing/eating something).
They will even let you bring the broth home so you can continue enjoying it at home. They will give you fresh ones from their kitchen! (I used the broth for scrambled eggs, yummmm)
2. Lao Wang 捞王
Similar to Point 1, Bao Gong 煲宫.
If you cannot find a Baogong outlet near you, head to Laowang. I find this a little lighter but saltier. But still good, nonetheless! This is also a hot pot chain serving white silky chicken and pig's stomach broth as the base!
You can also ask to bring the unfinished soup back, but unlike Bao Gong, you will be taking back the soup you cooked in, not fresh ones from the kitchen. But still good if you are making scrambled eggs the next morning!
3. Haidilao 海底捞
This hot pot chain needs no introduction. The wait time can be as long as 4h if you get a queue number on their WeChat page, let alone at the outlet itself. But fret not, some outlets are 24hours, which means you can get haidilao even at 1am (and there is no queue at all! Yay!)
The price in China is excellent (compared to overseas, of course), and you get a zillion condiments and broths to choose from. The service staff are attentive and easy to get!
I actually had Haidilao at home before I had it in the store. They sell packets of the broth in supermarkets, or Asian Marts almost worldwide, and it is so easy to prepare it wherever you are! Just the packet concentrate of the broth with some water and tadah, you can get haidilao even in Korea.




Dumplings
1. Yang's Dumplings 小杨生煎
Thin crispy bao skin with soft and succulent fillings. Mmmmmm. They have several flavours to choose from, but I like the classic meat dumpling as well as the crab one. But to each his own!
This chain is located in many places, especially shopping malls. It shouldn't be too hard to get this off your to-eat list! They have set-meals, including one that has 3 different flavored dumplings for you to try out, so do check them out!
2. Jia Jia Tang Bao 佳家汤包
Wish to try authentic Shanghai Xiao Long Bao with authentic local vibes, head here. The skin of the dumpling is thin and there is sufficient soup in each dumpling to keep you satisfied the entire meal!



Seafood
He Ma Gong Fang 盒马工坊
Ready for yummy live seafood that can be prepared on the spot for you? You've got it. Head to your nearest he ma盒马 outlet, there should be a section with live seafood (yes you get to choose which crab in the tank of piled up crabs you think tastes better too), pay for it, then bring it to the counter for them to prepare for you in several styles.
There will be a list (though it is in Chinese) which shows how the seafood can be prepared. Deep fried, sautéed in garlic and chili, etc. But payment can only be made via the hema app (which requires data, or check in store if they have wifi), which is connected to your alipay (which is free to download and register for!)

Be sure to try their xiao long xia, 小龙虾, it's like baby crawfish/baby lobseter which is cooked in several styles. I couldn't stop buying it when I first got to China. Hema can cook it fresh too if they are out of ready-made ones.
Be prepared to wait a little bit for your seafood, especially if you are there during peak hours! The longest I've seen was almost a 2h wait (sorry, no way), and the shortest we encountered was 15min of prep and cook time.
If you are there in October, be sure to try the Hairy Crabs (大闸蟹)! They are pretty tiny, but so full of roe. The meat is not to be missed too, as it's sooo sweet!
Noodles
1.大肠面 aka Pig's Large Intestine Noodle
We love this place. There is only one of this stall in the whole of Shanghai, and the queue is always super long. They are opened from around 11 to 8pm. Lady boss said the queue is the shortest around 2pm. But we usually go at night, cutting it really close to 8pm (before our old favorite bar shut its doors, we would go for a drink before noodles.)
It's not too pricey and the large intestine doesn't stink. Really love it. I will always go for the dry noodles, they have the soup ones too!
And they only take cash. So bring cash, don't just rely or Alipay or wechat!
Address: 59 复兴中路(59 Fu Xing Zhong Lu)
Getting there by metro: 老西门,四号出口 (Lao Xi Men Exit 4)
2. He Fu Lao Mian 和府捞面
This chain has a pretty interesting concept – it's a bookstore and a noodle shop. Which means they will not chase you away after your meal if you want to stay back to journal or read. Plus, they serve good herbal broth with the noodles, it all just pairs so well together.
Also not to be missed, the braised pig trotters. Don't worry about getting your hands dirty, you can ask for a pair of gloves and some tissue, absolutely fuss free!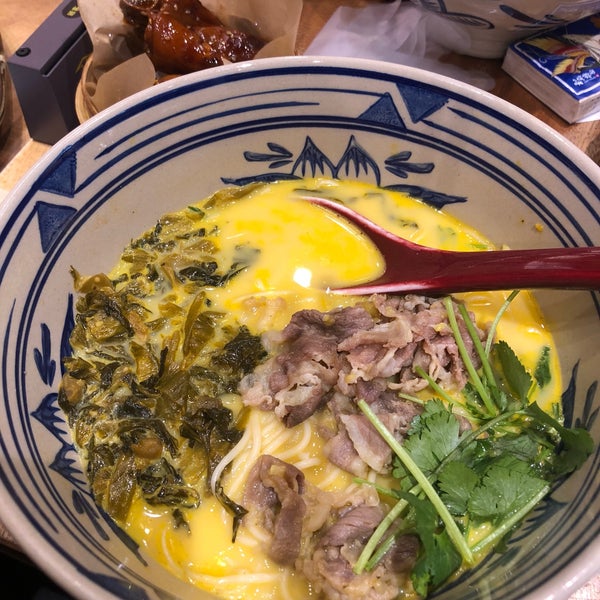 3. Ding Te Le 顶特勒
This is also a one and only stall, a little hard to find off the street like that, so do use your navigation map to help you. It's a 24hour joint in the middle of Puxi, so perfect as a post drinks supper spot.
Once you enter the shop, you will order upfront and then go to your seat. There are seats on "the mezzanine level" as well.
This shop is known for their Yellow Croaker Noodles (huang yu mian / 黄鱼面) and congee but I had their pork cutlet rice and the side of preserved vegetables, it was pretty good too!
Address: 淮海中路494弄22号 (494 Huai Hai Zhong Lu, Unit 29)
Getting there by metro: 淮海中路,一号出口 Middle Huai Hai Road Exit 1
Must bring home
What's a trip if you don't get souvenirs for your loved ones back home? Besides the usual gifts, you might want to consider bringing back some treats for them!
1. Gan Yuan Flavored Nuts 甘源瓜子仁
These are the must-buys when I head home every month. They come in many flavours, more than what is pictured so head to the nearest supermarket/hypermarket and give it a try!




2. Hawthorn Fruit Leather山楂条
They come in many forms, rolled, sliced, stacked, but all equally good.



3. Lays 乐事
Get the flavours you cannot find back home. From grilled pork, chicken wing, squid to kimchi, mala or even durian and salted egg yolk!
4. Line Friends Oreo 奥利奥
If you are a fan of Line Friends, you would not want to miss this!
Have a good trip! 🙂
TL;DR